Match Time: Saturday 2:30 PM Eastern US, 8:30 P.M (Italy time). GMT + 1
Match Location: Stadio Atleti Azzurri D'Italia, Bergamo, Italy
It's Serie A weekend, so it's time for our beloved Milan rossoneri! This time our team will face Atalanta, the hosts are unbeaten in their last eight games in all competitions (6 wins, 2 draws), with an average of three goals per game in that sequence. This is a match that will tell us what are the certainties we have and it's a key game for the fourth place, with Atalanta being a direct rival for the spot. Also it will be a battle between two goalscorers: Piątek vs Zapata!
Moreover, Gattuso spoke in the prematch conference: "We need to wear helmets, we will face a difficult team but these games are necessary for my boys to grow. It is surely a crucial game for us. We have to be determined, keep calm and understand what is necessary to put Atalanta under pressure. We always want to do something more, but tomorrow it will not be enough to play only technically well. We will have to spend a lot of energy, they have the poisoned tooth and they never stop. A win in Bergamo would give us an important mental boost but we still have a long way to go in the season".
Furthermore Milan will not change their usual lineup, Gattuso said about it "with the 4-3-3, the insertions of the midfielders are fundamental. Both Çalhanoglu and Paquetà are good at exchanging positions, we will have to do even more. For the qualities of Paquetà and Franck, we can do it even better". Then he talked about Calabria and Rodriguez " They put passion and desire. They want to improve. Untouchable? It's not a word I like. Negative moments can also come, I want the players to stay on the piece. We must always be ready".
On the other side, Atalanta is in their best seasonal unbeaten sequence in the leaguesince March 2018. A player who played a particular role in this excellent streak is thestriker, Duvan Zapata, who has contributed 16 goals in total, with 15 of those coming in his last 10 Serie A matches.
However, the strength of Atalanta comes from a combination of physical strength and technical quality, it is a team that knows how to strike you in any moment. Also, quality players like Iličić and Gomez can put any team in trouble and an additional weapon that they have are the head shots from their defenders (they have already scored 9 goals from the corner).
Finally, as Gattuso said it's a crucial game for us, we will need focus and determination to win this game. Hakan and Suso will have to create chances to put in difficulty the defense of Atalanta, also I expect our gunslinger Piątek to score. Milan needs to play with strength and courage, our guys are strong, have quality and they are ready to face these types of crucial matches. We must respect our opponents and win this match in order to keep gaining points and enforce the 4th place.
Forza Ragazzi!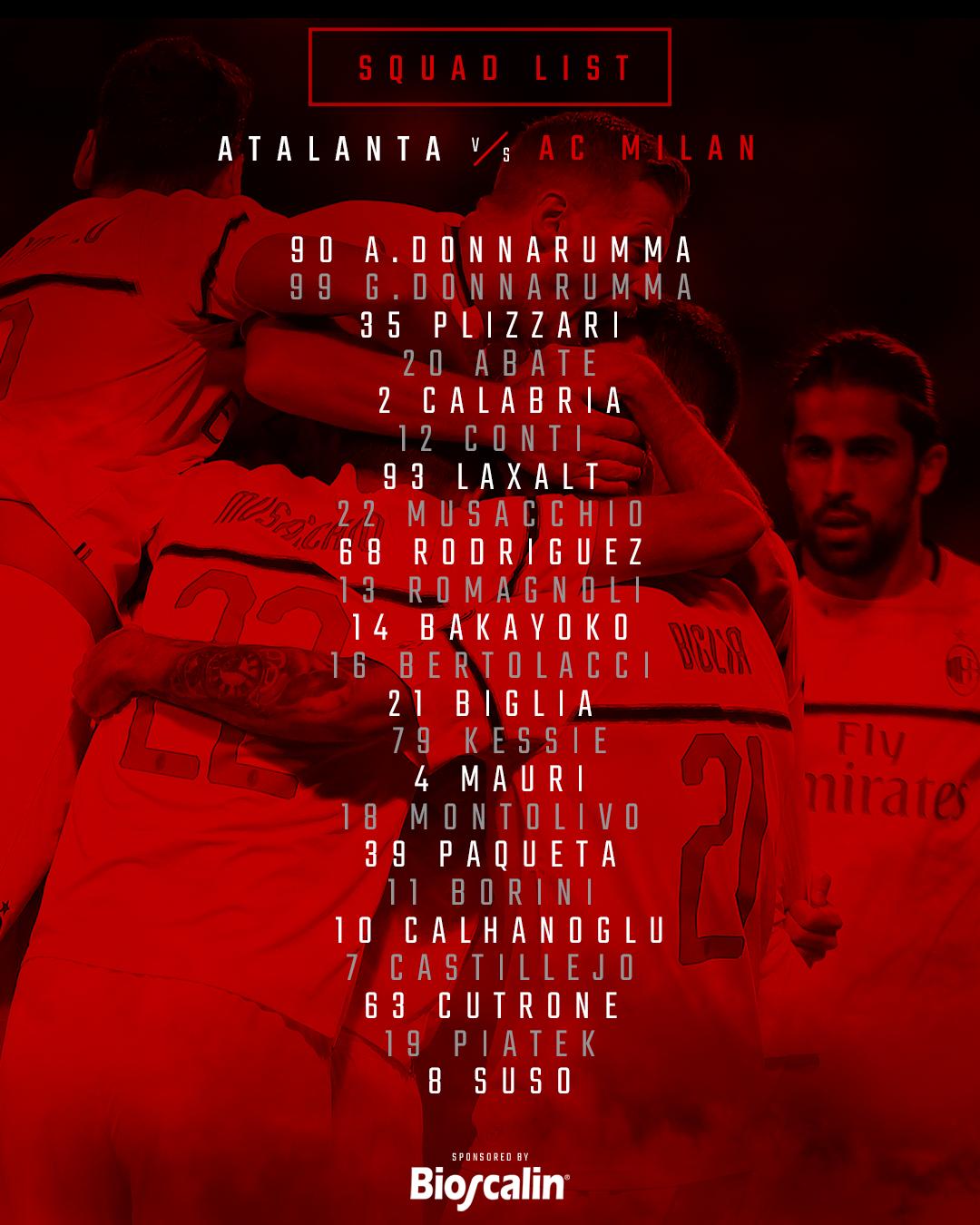 Official Starting XI:
ATALANTA (3-4-1-2): Berisha; Tolói, Palomino, Djimsiti; Hateboer, De Roon, Freuler, Castagne; Gomez; Iličić, Zapata. Coach: Gasperini
MILAN (4-3-3): G. Donnarumma; Calabria, Musacchio, Romagnoli, Rodriguez; Kessié, Bakayoko, Paquetà; Suso, Piątek, Çalhanoglu. Coach: Gattuso
Livestream Links:
Forza Milan!