Victory Rossoneri! AC Milan managed to win 3-2 a great match against a solid Udinese, a match full of emotions with a special mention to Rebić who made San Siro going wild with that last minute screamer! The zlatan effect has really arrived, which has completely shaken this milan in a good way, making him a reference for this team, a true leader!
During the first 20 minutes of the match we saw a really insecure Milan, in fact Udinese's goal was a gift made possible by the terrible mistake of Gigio where he comes out of his box to meet the ball with his head and gifts it to the path of Larsen who hits it past two defenders into an empty net. Then some errors from our defenders, especially Romagnoli on Lasagna's occasion who almost costed another goal for us, special mention to Fofana who really put in difficulty rossoneri's midfield.
Subsequently after 20th minute the team started to react with occasions from the corner by Romagnoli and Ibra, then a good occasion that almost resulted in goal between Theo and Ibra, then a good shot from Samu and almost a good occasion from Leão who received a ball from Zlatan. Milan's attack passes mainly thanks to the feet of Zlatan (who is being well marked by Udinese's defence), non-existent midfield in the first half, especially the performance of Bonaventura who struggled a lot on the left wing.
During second half Ante Rebić subs a poor Bonaventura, in fact turned out to be a good move because he finds the goal of the equaliser three minutes after the second half due to a good action from the team where Conti provided the assist. The team step on to the field with another aspect, with more determination and desire to overturn the situation.
Even though Udinese was always on the match creating occasions, a special shoutout to Gigio who redeemed himself with key saves during the match. Then on the minute 73 a stunning strike from Theo who smashes into the bottom right corner after a corner deviation from Udinese.
Further during a good occasion from Zlatan who almost score the 3-1, Udinese found the equaliser with Lasagna who cleverly pulls away from Conti and with a header founds the net. But Milan has never given up, they continued to push and fight and in the last minute Rebić down on the box and bobbles a left-footed shot back across goal!
In conclusion, a great victory from our Milan, showing grit and the desire to turn this season into a better one. Let's have patience and trust into our guys, maybe it's not all lost!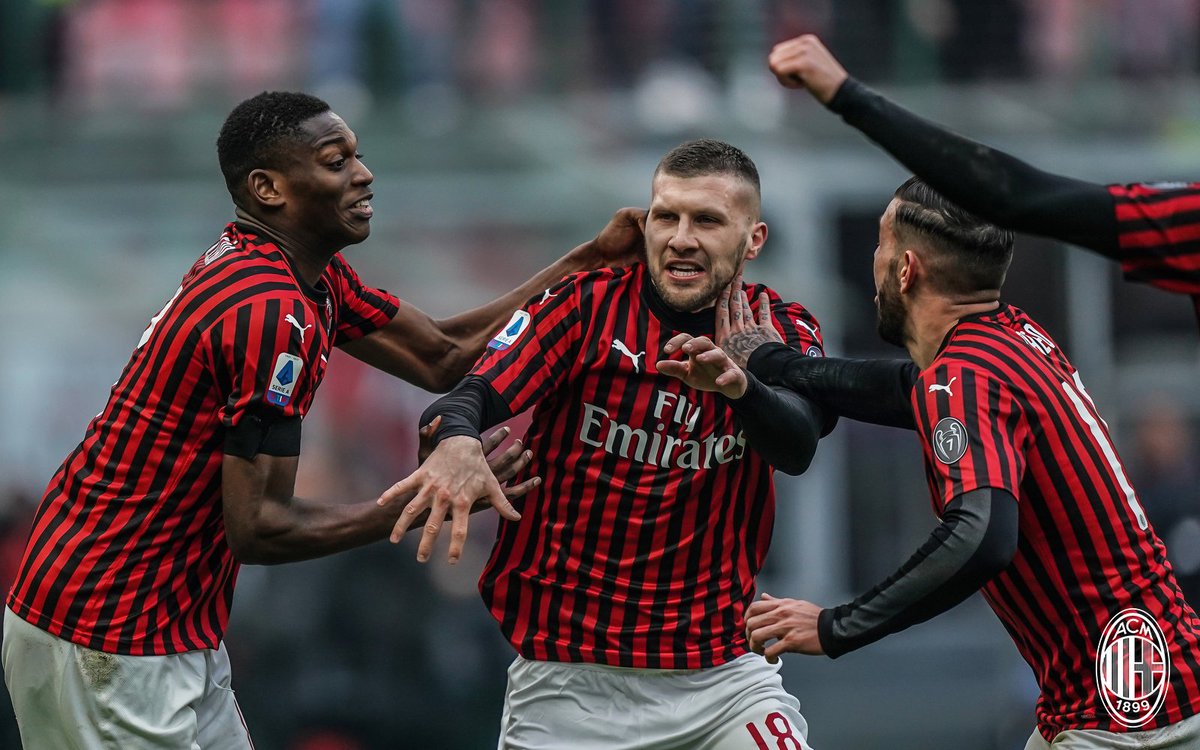 Ratings
---
Donnarumma (6): Really attentive match from Gigio, despite the error that costed us the first goal, he made several saves during the match helping us securing the result.
Conti (6): Good advances, speed and forward incursions during the match, made the assist for Rebić's goal, but he made a mistake marking Lasagna who costed Udinese's partial equaliser.
Kjaer (5.5): He was attentive today, but he seemed in difficulty marking Lasagna, he suffered attackers pace, also he could have done better helping Conti on Udinese's second goal.
Romagnoli (6): Good passes, precision in the creation phase from behind, very clean in its entrances, a match that is in its standards, good but also could have done better helping out on Lasagna's goal and other little errors during first half.
Theo (7): An usual Theo match, great performance from the one I consider the best signing from this season, he's the player who scored most goals from the team and he's a defender! Great goal who gave Milan's temporal leading, usual speed, boost on that band creating several occasions.
Castillejo (6.5): He runs everywhere, showing great skills with an effervescent presence for Milan on the right flank and creating several occasions in attack, Suso will struggle to get back his spot if Samu continues to play in this way . Krunić (6) subbed him to give more balance to the midfield, he did well.
Bennacer (6): Quite helpful in propositional defensive phase and in non-possession, with key passes and accelerations forward. But he was warned and seemed to suffer at a certain point of the match but then he reacted, an overall good performance
Kessié (6): A quantity match for Kessié, he made sporadic advances during attack phase making good passes but he did well in the defensive phase helping out a struggling Bennacer.
Bonaventura (5.5): Not the day for Jack, he didn't impact on the match, no speed, bad decision during attack phase, costed him being subbed at the end of the first half by Rebić (8), who revealed himself the man of the match, not only because he scored the two goals who gave us the victory, but changed the offensive phase of the team, with speed, grit and doing danger to Udinese's defense constantly. Ante has been waiting his moment, maybe he can be a key player for us during this second part of the season.
Leão (6): Good phrasing with Zlatan, excellent forays with speed and a lot of help in the offensive phase, he had goal occasions where he could have done better, but an overall good performance.
Ibrahimović (6.5): Good movements from Zlatan in the attack, good advances, sacrifice, making play his teammates, creating occasions, almost scored in two occasions but he needed more precision, he is a reference for this team a leader who has already started shaking up the squad.
Coach Pioli (6.5): Good lecture from coach Pioli subbing Jack for Rebić, this move completely changed the face of the team, the team was very proactive and never gave up, a good match by the coach.
---
Follow Home of Milan on social media
Twitter
Instagram
Facebook