When: Thursday, Feb. 13, 2020
Where: Giuseppe Meazza Stadium, Milan, Italy
Official kickoff time: 8:45 p.m. local time in Italy and across Europe; 7:45 p.m. in the United Kingdom; 2:45 p.m. Eastern Time; 11:45 a.m. Pacific Time
It's Coppa Italia time rossoneri! After another derby loss (AC Milan blew away a two-goal lead against Inter on Sunday night) our team needs to bounce back and what better occasion than playing against a vulnerable Juventus (lost against Veorna on Sunday). This should be a very tough game as the rossoneri will try to play to the strengths of their physical forwards and test the resistance of the visitors' backline.
Our team regarding head to head have lost 9 of the previous ten matches in Coppa Italia against Juventus, and yes even in Serie A we have lost 9 of our previous matches, so when we face Juve we tend to have negative results. This time there is a good feeling, if we play like the first half's derby, we can win this match and a further reason could be that Milan have sold over 70K tickets for this match and it is set to be a record in attendance for a Coppa Italia semifinal.
Further, coach Pioli declared before the match:
"It would be too easy to start again from the first half of the Derby," the Coach began. "We finished that came with broken bones, but it's a lesson we must learn from. The match against Juve is important, we must bounce back immediately and we've got a good chance of reaching the Coppa Italia final, which would be hugely significant for us. We are prepared to tackle this challenge in the best way possible, this is our chance to shine."
"THE AIM IS THE FINAL"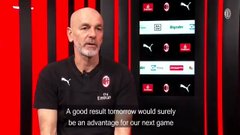 Meanwhile, according to GDS, Pioli is willing to start with 4-2-3-1 formation with Hakan Çalhanoglu behind Ibrahimovic, with Rebic and Castillejo acting as left and right midfielders. Bennacer and Kessié are confirmed on the midfield, Calabria will play instead of Conti.
On the other side, Juventus will play with a surprising 4-3-1-2, with Ramsey playing behind Dybala and Ronaldo, then Bentancur, Rabiot, Pjanic and the usual defense with Cuadrado acting as RB, Gigi Buffon will start as GK. Maurizio Sarri will be the special man to watch, due to Juve really bad performances even if they keep winning, Juventus side are still waiting that bel calcio he used to show during his time at Napoli and Chelsea.
In conclusion, let's bounce back and support our team, Coppa Italia final is a true possibility!
---
Squad List:
GOALKEEPERS: Donnarumma A., Donnarumma G., Begović.
DEFENDERS: Conti, Gabbia, Hernández, Kjaer, Musacchio, Laxalt, Saelemaekers, Romagnoli.
MIDFIELDERS: Bennacer, Çalhanoğlu, Kessié, Paquetà, Bonaventura, Brescianini.
ATTACKERS: Leão, Rebić, Castillejo, Ibrahimović.
---
Probable Lineups:
Milan (4-2-3-1): Donnarumma; Hernandez, Romagnoli, Kjaer, Calabria; Rebic, Bennacer, Kessie, Castillejo; Calhaoglu; Ibrahimovic. Coach: Pioli.
Juventus (4-3-1-2): Buffon; Cuadrado, De Ligt, Bonucci, Alex Sandro; Bentancur, Pjanic, Rabiot; Ramsey; Ronaldo, Dybala. Coach: Sarri
HOW TO WATCH
Television: BT Sport 2 (United Kingdom); RAI Uno (Italy)
Online/mobile: ESPN+ (United States); FloFC (Canada); BT Sport Live (United Kingdom); RAI Play (Italy)
Livestreams