The deal is done according to multiple sources, Bonucci will make his return to Juventus while Caldara and Higuain go the other way. Here are the details of the deal and the analysis.
Gonzalo Higuain
Higuain could be considered as a bargain for AC Milan. The striker joined the Bianconeri for €90 million from Napoli back in 2016, he has proven to be a key player in Allegri's squad and a goalscorer. The Argentinian scored 16 goals in 32 league starts, more than any Milan player. His goals proved decisive, scoring a brace against Milan in the San Siro and a late minute winner against Inter to overtake Napoli. The forward is going to join Il Diavolo on a loan with an option to buy. Milan will pay €18 million now and €36 million if they are to buy him at the end of the season.
Higuain felt he is being pushed out of the squad, especially with the arrival of Cristiano Ronaldo. He wanted to leave the club and be granted first-team football while staying in Italy. Juventus rejected multiple offers from Chelsea and decided to include Higuain in the transfer of the 3 players.
AC Milan was on a long hunt for a world-class striker. Higuain fit their criteria perfectly and is very reliable when his team needs him. The Rossoneri believe that their best goalscorer, Cutrone, is too young to fully rely on. The former Napoli striker could add amazing skill to the team and is a great finisher, especially with the help of Suso's crosses.
Mattia Caldara
Mattia Caldara seemed as an exciting signing for Juventus, coming in from Atalanta. The central defender averages 1.7 interceptions and 4.4 clearances every league game. The 24-year-old was open to joining the Rossoneri, willing to follow in the footsteps of his idol Nesta.
Although he is yet to play a single game for the Bianconeri, Caldara is ready to depart his club and start a new chapter with Milan. Juventus had a crucial decision to make: To build for the future with Caldara or bring a current world class defender like Bonucci. They have decided to sacrificed the young prospect for an Italian veteran as they aim for a Champions League title as soon as possible.
Milan decided to sacrifice their captain for Caldara, who is likely to excel in a duo with Romagnoli. As the Rossoneri say goodbye to their captain, they say hello to the next generation. The former Atalanta man is still yet to prove his full worth and can do so at AC Milan.
Leonardo Bonucci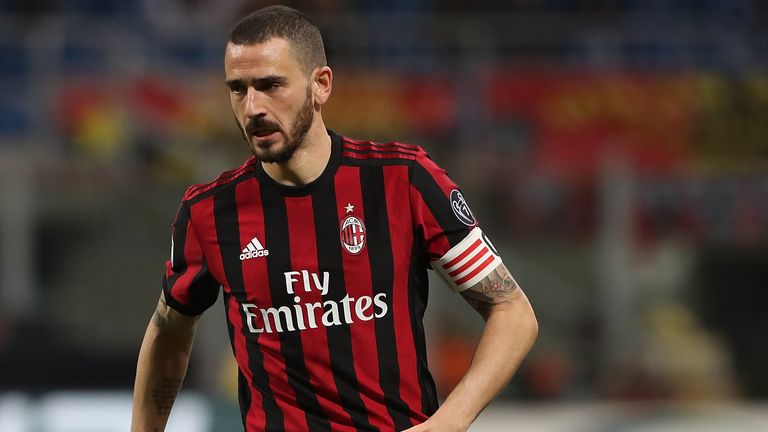 In the summer of 2017, Bonucci completed a shock move from Juventus to AC Milan. Since then things have been slowly going downhill for the defender. The 31-year-old struggled to keep up his form and dropped drastically as Milan finished 6th place and his former club Juve won another Scudetto and Coppa Italia.
Bonucci became unhappy at AC Milan and wanted to return to Juve after only 1 season. Reports say that he wants to be back on the top and win more trophies, he doesn't want to play with a struggling team and wants to regain his status as one of the best in the world.